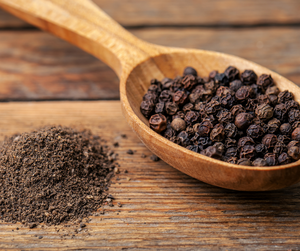 Black pepper is the world's most traded and consumed spice, and with good reason. It tastes great and adds a mild but spicy kick to many dishes.
Our Ceylon Pepper is particularly favoured worldwide as it is quite rich in piperine, the alkaloid which lends it a distinct pungency. As a result, Ceylon Pepper from Sri Lanka is richly aromatic, with floral and citrus notes, while retaining a strong pungency.
  Its versatility is quite unmatched and it's hard to find a savory dish that doesn't at least call for black pepper to taste.